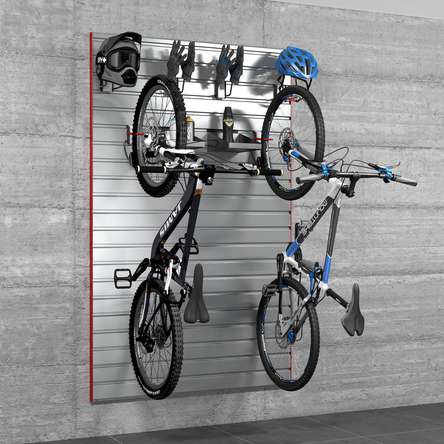 Premium bicycle set V2
Product code: 18995
---
For hanging two bicycle vertically
Premium bicycle set V2 is intended for storing two bicycles and accompanying cycling gear. The set provides an orderly and economic user of your garage, as well as a simple way to clean and maintain the wall that the bicycles are stored on. The Premium bicycle set V2 is esthetically designed to delight.
Packaging: 5× carton
Smartwall 1200 wall set (24054) (3 cartons)
Bicycle set plus V hooks (18999) ×2
All parts of the set are simply fastened into the system rail, which attaches to the garage wall. The set can be simply expanded with other elements that are available as add-ons.
You can hang: Two bicycles – vertically on the wall
---
Features:
Smartwall 1200 1/7 (3×): Smartwall system wall, 120 cm long, consisting of 21 system rails (3 packs of 7); every rail is built from extruded and anodized aluminum, it is firm and simple to install, maintain and clean, providing a flexible way to organize your equipment on the wall.
Smartwall startrail 1200 (1×): the starting rail for the 120 cm Smartwall system wall.
Vertical bicycle hook (2×): the hook for hanging the bicycle vertically; it is simple to install it into the system carrier, and then you can immediately use it to hang your bicycle vertically.
Helmet hook (2×): used for airing the helmet after a ride.
Glove hook (2×): this way gloves can always be easily found and kept dry.
Project shelf (2×): a metal shelf for projects, so that essential cycling gear is always in the right place and at hand.
Technical data:
Dimensions (width x depth x height):

1200 x 300 x 1920 mm

Weight:

37.5 kg

Material:

aluminium, steel, plastic

Processing:

anodized, powder coating, rubber coated (hook)
Similar products
Bicycle set V

For hanging your bicycle vertically

Bicycle set V is a system that makes it easy to put your bicycle away and keep your garage organized. It is intended for one cyclist who uses their bicycle for riding around town or for recreational rides. The vertical set promotes an orderly and economical use of the height and depth of your garage.

You can hang: A bicycle – vertically on the wall

Bicycle set H

For hanging your bicycle horizontally

Bicycle set H is a system that makes it easy to put your bicycle away and keep your garage organized. It is intended for one cyclist who uses their bicycle for riding around town or for recreational rides. The horizontal set promotes an orderly and economical use of the width of your garage.

You can hang: A bicycle – horizontally on the wall

Bicycle set plus V

For hanging your bicycle vertically

Bicycle set plus V is a system that makes it easy to put your bicycle away and keep your garage organized. It is intended for one sports cyclist who requires more additional cycling gear for their hobby. The vertical set promotes an orderly and economical use of the height and depth of your garage.

You can hang: A bicycle – vertically on the wall
Bicycle set plus H

For hanging your bicycle horizontally

Bicycle set plus H is a system that makes it easy to put your bicycle away and keep your garage organized. It is intended for one sports cyclist who requires more additional cycling gear for their hobby. The horizontal set promotes an orderly and economical use of the width of your garage.

You can hang: A bicycle – horizontally on the wall

Premium bicycle set V2

For hanging two bicycle vertically

Premium bicycle set V2 is intended for storing two bicycles and accompanying cycling gear. The set provides an orderly and economic user of your garage, as well as a simple way to clean and maintain the wall that the bicycles are stored on. The Premium bicycle set V2 is esthetically designed to delight.

You can hang: Two bicycles – vertically on the wall

Premium bicycle set H2

For hanging two bicycle vertically

Premium bicycle set H2 is intended for storing two bicycles and accompanying cycling gear. The set provides an orderly and economic user of your garage, as well as a simple way to clean and maintain the wall that the bicycles are stored on. The Premium bicycle set H2 is elegantly designed to delight.

You can hang: Two bicycles – horizontally on the wall