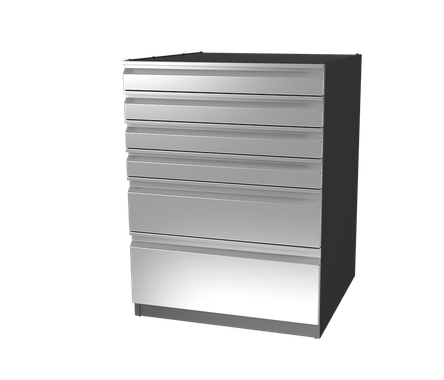 Chest of drawers 820/6 pro
Product code: 17995
---
Pro line features extra strong ball bearing slides for use in a professional environment where the loads can be heavier and the frequency of use is higher. The chest of drawers is a precisely and robustly made standard under-counter element that will serve you for a very long time. It features height-adjustable legs and can be combined with other under counter elements, legs and work surfaces. It has six drawers can be optionally equipped with Drawer inserts.
You can store: the chest of drawers is for stowing away smaller things than need to be at hand at all times.
---
Features:
put your garage, workshop or basement in order and enjoy the sight;
powder coating guarantees good color retention;
the chest of drawers can be optionally equipped with a drawer insert for arranging smaller items such as parts for a new Hi-Fi amplifier or screws;
by combining compatible elements: Under-counter cabinet 820, Chest of drawers 820 and Table legs, you can build a worktop that suits your needs or available space;
robust product.
Technical data:
Material:

steel

Processing:

powder coating
Similar products