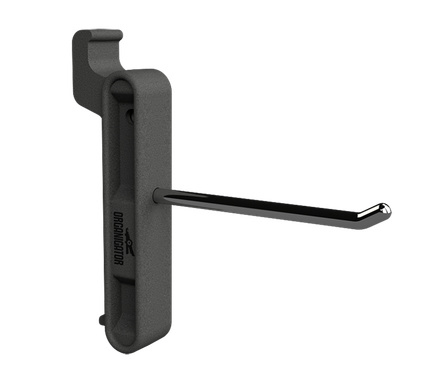 i.Hook
Product code: 16011
---
You can hang many things with a hole on the i.Hook and free up floor space.
You can hang: equipment and tools with a loop or a hole for hanging, such as: dustpan and brush, pruning shears, trowels, screwdrivers, levels, saws, clothing, caps, knives, measuring tapes, grill accessories.
---
Features:
put your garage, workshop or basement in order and enjoy the sight;
hang your gear on the wall and make space;
attach the hanger to the Organigator Smartwall quickly and securely without using tools;
the hook is designed to occupy a small part of your Smartwall, so you can economically manage space;
high-quality product.
Technical data:
Dimensions (width x depth x height):

20 x 108 x 109 mm

Weight:

0.1 kg

Maximum load:

3.0 kg

Material:

plastic, steel
Similar products